Design Thinking models. The Double Diamond
This article I am dedicating to observe the Design Thinking model developed by the Council of Industrial Design in 2005.
The Design Council, formerly the Council of Industrial Design, is a United Kingdom charity incorporated by Royal Charter. Its stated mission is "to champion great design that improves lives and makes things better". It was instrumental in the promoting of the concept of inclusive design.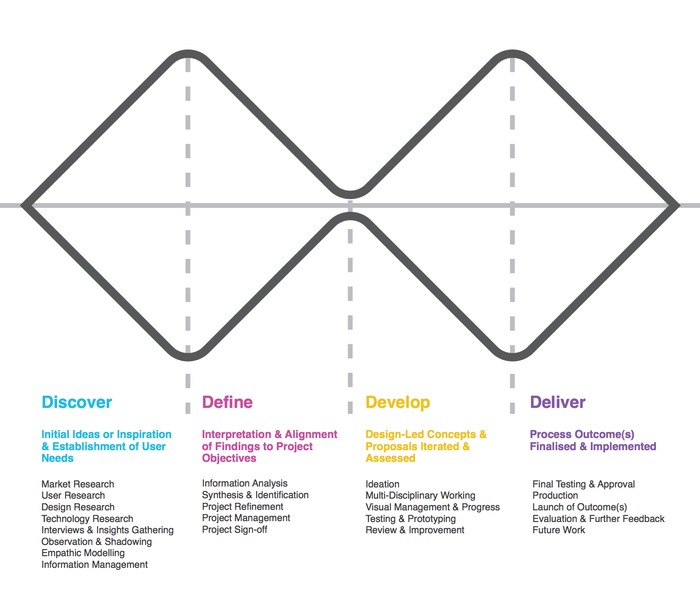 Every design specialism has a different approach and ways of working, but there are some commonalities to the creative process. At the Design Council, we like to illustrate this with our Double Diamond model, part of our Framework for Innovation.

designcouncil.org.uk
What is the Double Dimond?
The Double Diamond is a simple visual map of the design process. The model is divided into 4 phases: Discover, Define, Develop and Deliver.
Like any of the Design Thinking methodologies, the process is iterative. This means that ideas are developed, tested and refined several times, with weak ideas dropped in the process.
Practical design methods – like user stories, journey mapping, and character profiles – move a project through the four phases of the Double Diamond.
Good design is essential to good business. It turns new ideas into practical products, environments, and services around the changing needs of users.

designcouncil.org.uk
Phases
The main feature of the Double Diamond is its emphasis on the "divergent" and "convergent thinking", where first many ideas are created, before refining and narrowing down to the best idea. This is happening twice in this model—once to confirm the problem definition and once to create the solution.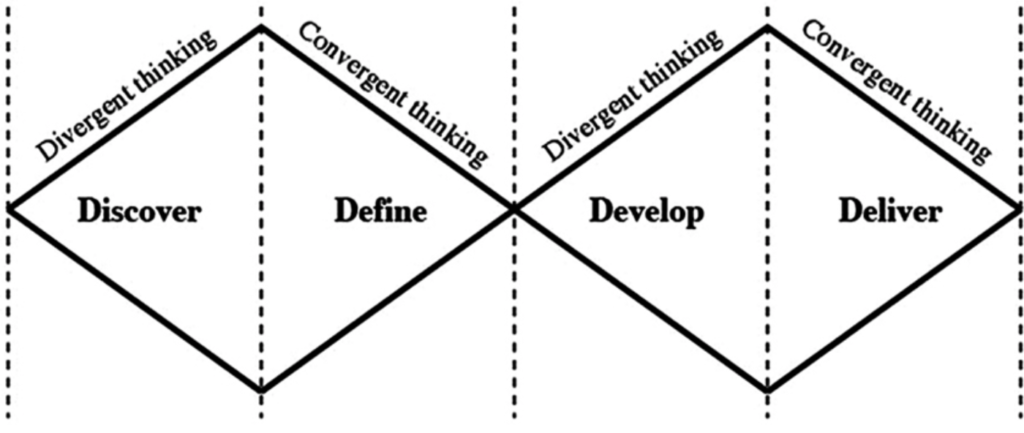 Discover – The first quarter of the Double Diamond model covers the start of the project. Designers try to look at the world in a fresh way, notice new things and gather insights.
Define – The second quarter represents the definition stage, in which designers try to make sense of all the possibilities identified in the Discover phase. Which matters most? Which should we act on first? What is feasible? The goal here is to develop a clear creative brief that frames the fundamental design challenge.
Develop – The third quarter marks a period of development where solutions or concepts are created, prototyped, tested and iterated. This process of trial and error helps designers to improve and refine their ideas.
Delivery – The final quarter of the double diamond model is the delivery stage, where the resulting project (a product, service or environment, for example) is finalized, produced and launched.
Resources to pick from designcouncil.org.uk
I was surprised how many articles you may find on the Design Council resource page. I put here some links I found interesting.