What is Design Thinking? Design Thinking definition.
Want to know what is Design Thinking and why it so popular? Why it is used so widely? Let me explain and introduce it. Definition, history and popular models of DT.
When I heard about "Design Thinking" for the first time, I never thought that it might be somehow related to IT. Two words "design" and "thinking" did not fit together. But it was a long time ago. Today I can and want to share a bit of I know, collected and compiled.
What is Design Thinking?
The design was always a catalyst for innovation processes in product and service development. But over the last decade, the Design Thinking term has gained popularity. It become a label for the awareness that any kind of business and organization can benefit from designers way of thinking and working.
Design thinking refers to the cognitive, strategic and practical processes by which design concepts are developed. It is also associated with prescriptions for the innovation of products and services within business and social contexts.
History of Design Thinking
For the business world, design thinking might seem like a new concept from this side of the millennium, but within design research characteristics of designers' work and practice have been discussed for at least 40 years, while the management discourse of design thinking.
Theoretical perspectives can be categorized into five sub-discourses, identified as having clear roots and a substantial academic following, with the foundational work(s) within parentheses:
Design and designerly thinking as the creation of artefacts (Simon, 1969).
Design and designerly thinking as a reflexive practice (Schön, 1983).
Design and designerly thinking as a problem-solving activity (Buchanan, 1992 based on Rittel and Webber, 1973).
Design and designerly thinking as a way of reasoning/making sense of things (Lawson, 2006 [1980]; Cross, 2006, 2011).
Design and designerly thinking as creation of meaning (Krippendorff, 2006).
Design and Designerly Thinking as the Creation of Artefacts
Herbert A. Simon (1916–2001), winner of the 1978 Nobel Prize in Economics for his critique of the opti-mizing model of rational decision making and its replacement with the concept of bounded rationality, earned an international reputation as a founder of artificial intelligence. He was the first to mention design as a science or way of thinking in his 1969 book, Sciences of the Artificial.
Design and Designerly Thinking as a Reflexive Practice
Schön (1930–1997) was originally a philosopher with pragmatism as his theoretical frame of reference. He first focused on the logics of inventions and later, turned to organizational learning.
In contrast to Simon, Schön constructed a picture of the designer through a practice-based focus on the relation between creation and reflection-uponthe-creation that allows for constantly improved competence and re-creation. Such reflection, which Schön found in the work of both architects and psychoanalysts, became understood as the core of design work.
Design and Designerly Thinking as a Problem-Solving Activity
Buchanan's (1992) article about "wicked problems" in design has become a foundational reference not only for the discourse about design thinking, but also for the whole design area.

Buchanan was the first to really take a designerly perspective on design thinking, building on Rittel and Webber's (1973) wicked problem approach as an alternative to the accepted step-by-step model of the design process with its two distinct phases: an analytic step of problem definition, followed by a synthetic sequence of problem solution.
He suggests four distinct areas of design thinking as places of interventions where problems and solutions could be reconsidered:
symbolic and visual communications (or graphic design),
material objects (or industrial design),
activities and organizational services (or service design),
complex systems or environments for living, working, playing and learning (or interaction design).
Design and Designerly Thinking as a Practice-Based Activity and Way of Making Sense of Things
Lawson and Cross, who both trained as architects, each described and reflected on practical cases of designers thinking and working. Their interests spanned many years: Lawson's book, How Designers Think: The Design Process Demystified, has had four revisions since 1980, and Cross's research included design thinking workshops at Delft University of Technology in 1991, continued with a series of articles on "designerly ways of knowing" (see Cross, 2006) and, recently, his book Design Thinking (2011).
Cross works from ethnographic research to reveal what designers do during the activity of designing, while Lawson draws on the psychology of creative design processes to turn his research knowledge into forms designers can use.
Design and Designerly Thinking as Creation of Meaning (rather than Artefacts)
Starting from a philosophical and semantic background, Krippendorff (2006) defined design and designers' work as a matter of creating meaning (rather than artefacts as in Simon's notion). Verganti (2009) extended Krippendorff's work to innovation processes, arguing that innovation in meaning is as important as technological innovations that are mostly related to the concept of innovation.
One of his examples is Alessi's commercially successful kitchenware that gives radical new meanings to commonplace objects like a corkscrew and a lemon squeezer. Before they were designed, the company had an extensive collaboration with a psychologist, and the way the objects look – as stylized products rather than mundane tools – was based on frame theories of
boundary objects to which individuals were especially attached (Verganti, 2009: 40–3).
Most popular models of Design Thinking
Different models have been introduced to define the design thinking process. But the basic steps are the same. Ask the user, think, implement. Below is an observation of the most popular models.
Five-stage Design Thinking model proposed by the Hasso-Plattner Institute of Design at Stanford (d.school). d.school is the leading university when it comes to teaching Design Thinking. The five stages of Design Thinking, according to d.school, are as follows: Empathise, Define (the problem), Ideate, Prototype, and Test.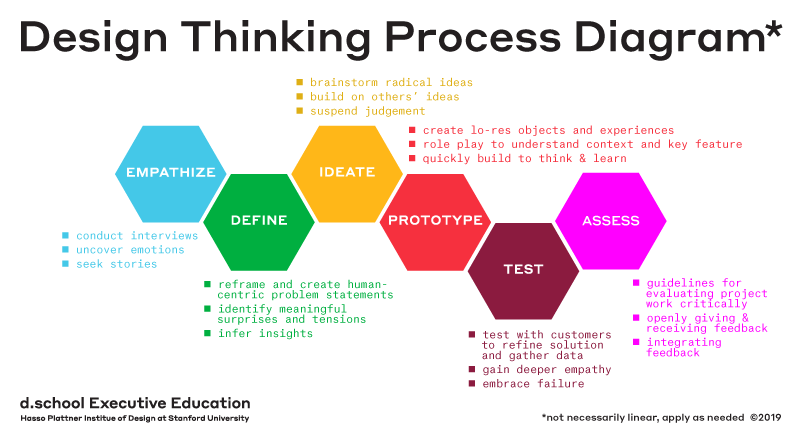 2. IDEO, International Design and Consulting Firm
IDEO company generalizes the Design Thinking process to 3 steps: Inspiration, Ideation and Implementation.
Divided into four distinct phases – Discover, Define, Develop and Deliver – the Double Diamond is a simple visual map of the design process.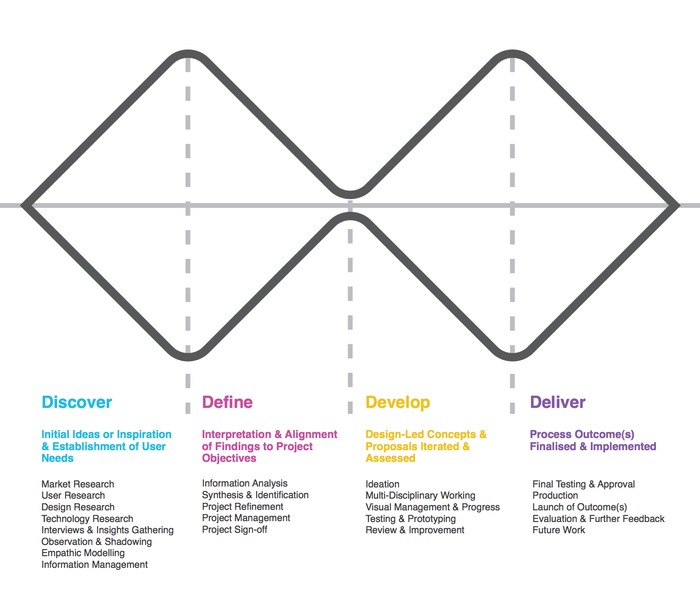 Design Thinking is for Everybody
The creative process is complicated, making it difficult to capture simply. But Design Thinking is is a well-defined process for creative employees, freelancers, and organizations.
I hope that this sort of introduction and very short explanations of Design Thinking can help make it appear a little less mysterious.
And what is about you? Are you using DT in your work or business? Any inspiring examples from your life of delivery after to users after DT cycle? Share in comments below!