Design Thinking models. IDEO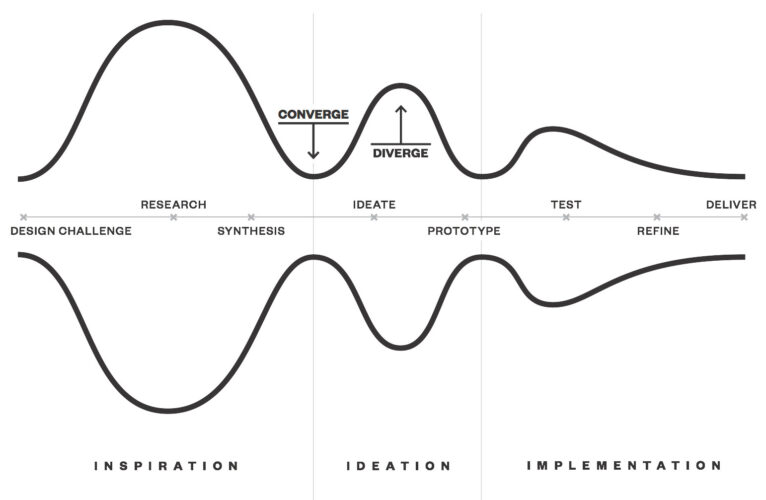 In this post I will continue on different Design Thinking frameworks. This time I will observer Design Thinking model from IDEO.
What is IDEO?
IDEO is an international design and consulting firm founded in Palo Alto, California, in 1991. The company has locations in Cambridge (Massachusetts), Chicago, London, Munich, New York City, Palo Alto, San Francisco, Shanghai, and Tokyo.
IDEO believes that the key to figuring out what humans really want lies in doing two things:
Observing user behavior
Putting yourself in the situation of the end-user.
IDEO's Human-Centered Design Mindsets.
There are three areas in Design Thinking model from IDEO: inspiration, ideation, and implementation. The reason they are calling these as a spaces, rather than steps, is that they are not always undertaken sequentially.
Inspiration is means of opening up the problem or opportunity space through research activities.
Ideation is the process of generating, developing, and testing ideas.
Implementation is the path that leads from the project stage into people's lives.
Inspiration
In the inspiration phase, designers distill their ideas into insights from on-field observations and design research conducted on human behaviors which would lead to tangible solutions.
First of all is a good starting point for designers to go out into the world and observe the actual experiences of people. How they improvise their way through their daily lives.
Ideation
In the ideation phase, a diverse group of multidisciplinary people get involved to create experiences and test contending ideas against the insights which have been drawn from the inspiration phase.
After spending time in the field observing and doing design research, a team goes through a process of synthesis in which they distill what they saw and heard into insights that can lead to solutions or opportunities for change.
To achieve divergent thinking, it is important to have a diverse group of people involved in the process. Ideally, an interdisciplinary group would involve "'T'-shaped" individuals who possess a depth of specific skill set in their fields – MBA, engineers, architects.
Implementation
Finally, in the implementation phase, the ideas which generated favorable concepts would be transformed into viable prototypes, in other words, turning ideas into actual products and services which can be tested with users, iterated and refined further.
Through prototyping, the design thinking process seeks to uncover unforeseen implementation challenges and unintended consequences in order to have more reliable long-term success.
After the prototyping process is finished and the ultimate product or service has been created. The design team helps create a communication strategy. Storytelling, particularly through multimedia, helps communicate the solution.
Useful links
IDEO home page: https://designthinking.ideo.com/
At IDEO, you'll find our particular take on design thinking, as well as the perspectives of others. Everything on this site is free for you to use and share with proper attribution.
Design Kit: The Human-Centered Design Toolkit: https://www.ideo.com/post/design-kit