Adobe's Kickbox: The Kit To Launch Your Next Big Idea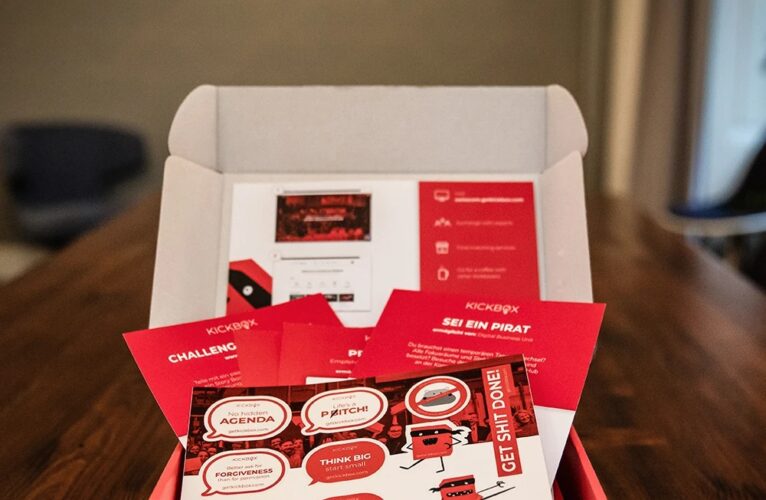 Innovation is s difficult topic when we are discussing about it. Every manager top down want innovations, even sometimes not sure what it is and how it should looks like.
I was very interested when first time I found about Adobe Kickbox. Adobe managed to create program / framework that encourages and guides employees to innovate at work.
From my personal insight, this is useful for individual person too. You may go through framework in order to create your personal "startup".
What is Adobe Kickbox?
So, what Adobe Kickbox is? This is a program founded by Adobe Systems to drive innovation from within. Further shaped by Swisscom, adapted and implemented by thousands of companies.
The Kickbox Foundation provides a space to get Kickbox open-source material from Adobe and Swisscom and exchange thoughts with other Kickbox practitioners.
Kickbox is not a change to the corporate systems. It's a way to hack the existing systems.
How Kickbox is working?
The Kickbox is a small, red cardboard box containing everything an employee needs to generate, prototype, and test a new idea.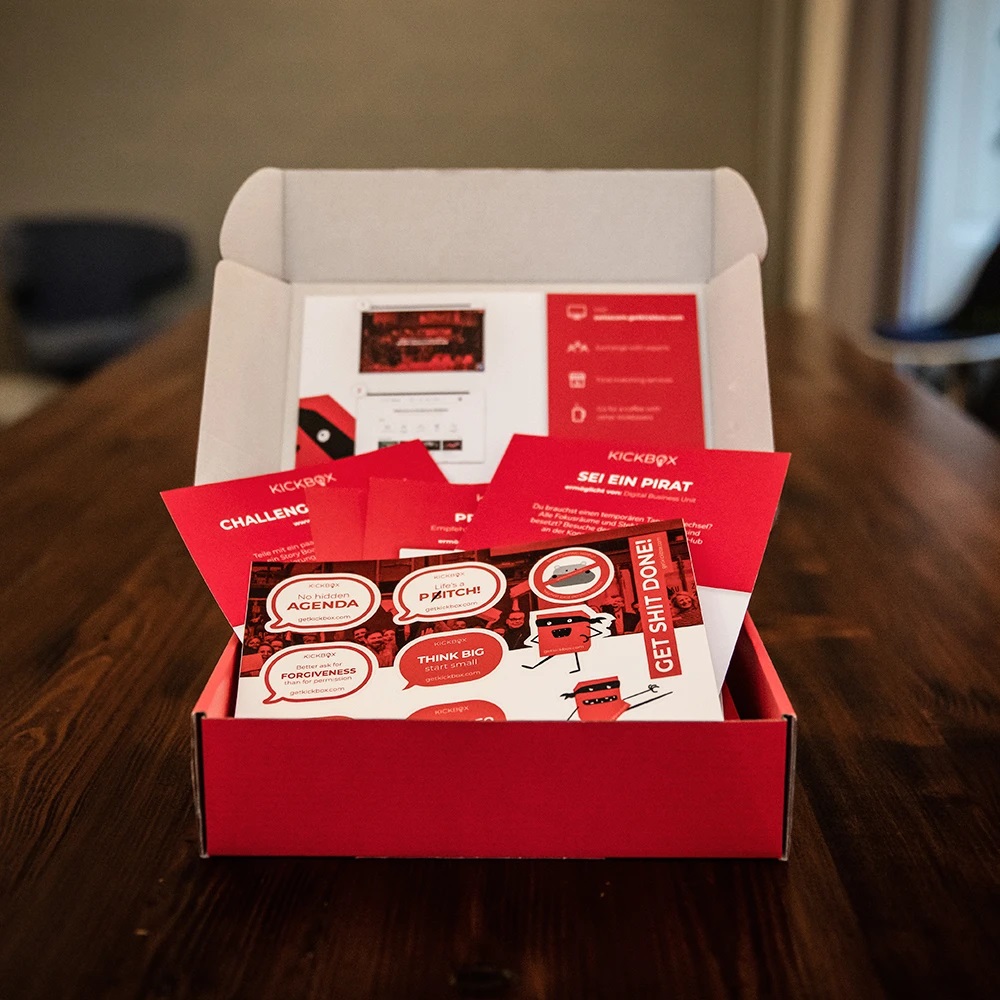 Inside you will find:
instruction cards
a pen
two Post-It note pads
two notebooks
a Starbucks gift card
a bar of chocolate and (mostly importantly)
a $1,000 prepaid credit card.
The card can be used on anything the employee would like or need without ever having to justify it or fill out an expense report.
The instructions inside the Kickbox take the form of a six-level curriculum that encourages employees to beat each level and "beat the box." Each level contains exercises and a checklist.
The exercises are designed to guide employees from ideation stages to a small-scale test. The sixth level's exercise is selling the idea to management.
Level 1: Inception. Motivation is important!
Kickbox is starting from motivation. Why are you starting this innovation project? What is motivating you? Ask your self why you want to innovate. And here is a prep card with basic motivators.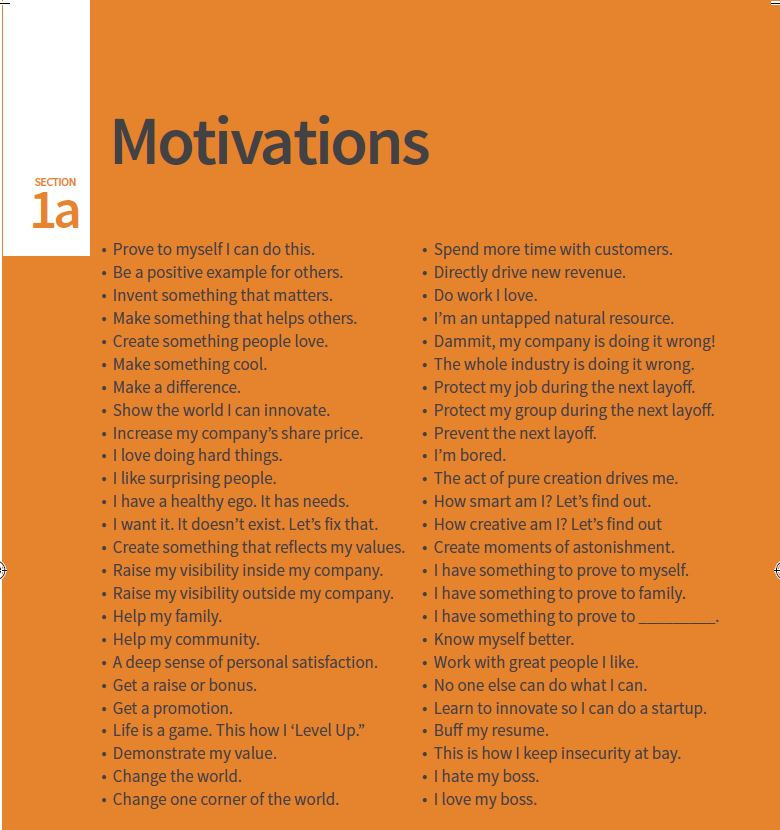 Motivations are different because people are different. None are right or wrong. Choose wisely, if your reasons are unable to change you, they certainly cannot change the world.
Level 2: Ideation. Creativity is not mysterious.
Naïve way of observing world for exactly what it is, not what you want, and making new connections.
Most innovation processes don't start with ideation. Strange, since innovation starts with knowing how to create ideas. Even though most new ideas are bad, ideas still are the start.
Your objective is to generate bad ideas. And there we can find a notebook for your bad ideas included.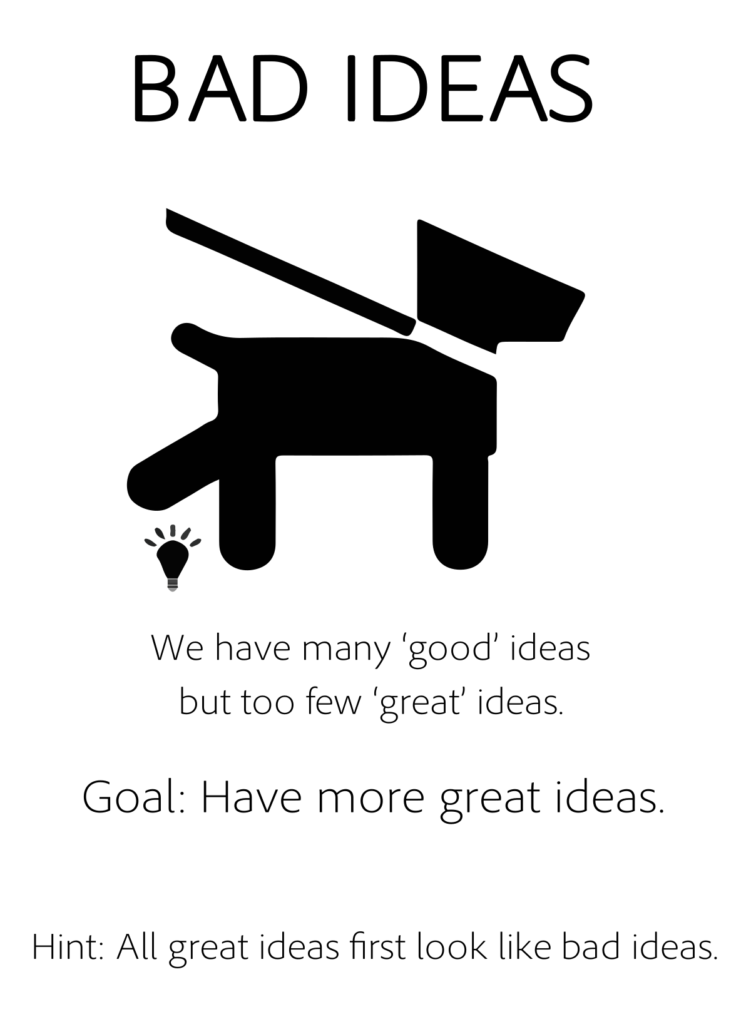 And suggestion is here: Being more creativity: FAME: hanging out with Friends, Art, Music, Exercise.
Level 3: Improve
Raw ideas can have great potential but they are not yet ready for testing with potential users. First they must grow stronger and more refined. Level gives you powerful tools for improving ideas.
Can you put idea into Business Model Canvas? Or one sentence elevator pitch? Review the canvas with your colleagues. Is it clear to them? Does it make sense? Is it compelling?
A <product/service description> for <target customer> that <key value> enabling <primary benefits> unlike <existing alternatives>.

Example of composed a product statement
Hint: Finding good Unfair Advantages is very rare. Most successful products don't have one.
Level 4: Investigate
Level 4 is where you engage potential customers to gather data. This data will indicate whether your idea should be pursued, changed or dropped. It begins with two steps: Discovery and Validation. You can also think of them as Ask and Sell or Learn and Confirm.
And Adobe Kickbox is engaging you to complete following actions:
Interview three customers either in person or via phone. It must bean interactive conversation. Verify the problem is real and high value.
Create a product website.
Test 5+ value props in web ads. Identify the best click-thru performer.
Drive 250+ visitors to the site with ads.
Get 25 or more visitors to express interest or engage.
To complete Level 4 you must review your validation data with a Kickbox mentor. Email them to schedule. This review must be completed before advancing to Level 5.
Negative answers learned quickly and cheaply are better than positive answers learned slowly at great expense.
Level 5: Iterate
At this point you have a functioning experimental platform running with traffic, customers expressing interest and data being captured. Now it's time to use that platform to optimize your idea.
This level is about iterating and evolving the experiment to improve.
Change the ads, landing page, value prop and see what makes a difference.
Grab screens of every iteration
Using analytics to gain insight
How to advance your hypothesis to demonstrate increasing value.
What data is the most compelling and why.
Managing your budget so you don't run out of the funds before you get data.
Level 6: Infiltrate. Welcome to the "Boss level".
This is the final level. Pitch and present idea to your boss.
Prepare a ten minute presentation on your project using the Kickbox presentation template from the Kickbox site as a guide.
Review your presentation with a Kickbox mentor. Email them to schedule. You must complete this review before advancing to the next and final action.
Convince any executive (senior director or above) to invest what you need for the next step in your project. It might be in the form of time, resources or funds but it must have a value of at least $2,000. They must also commit to join your advisory board to guide the next round of experiments.
What is next?
Once all 6 stages are complete, users move on to the post "blue box" which helps you take your product to the next level. The entire system is void of a hierarchy and there's no central source mediating or regulating how the system operates.
Is it free?
One of the best things about Kickbox is that it's free. You can download all the materials here (minus the prepaid gift car). It's a great tool to help you develop that innovative idea that's been spinning in your head and hopefully helps it become reality.